Solamente En San Miguel, Volume I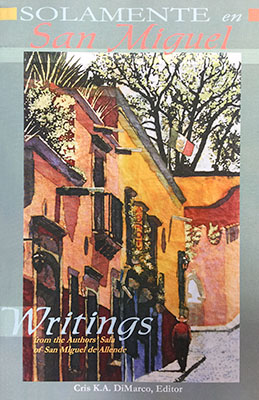 This was our first anthology, featuring many talented writers who live in San Miguel de Allende.
It is no wonder that writers are drawn to San Miguel. You couldn't invent this place, simmering with Mexican color and flavor while embracing flocks of tourists and a sizeable expat community. For decades writers native and foreign have tried to convey the essence of this captivating, complex town, where you can sip a decaf latte next door to a tortilla shop and in all likelihood run across a procession or fireworks on your way home, being careful not to slip on the cobblestones or step into a pothole.
This anthology is both a love letter to this unique place and its people, and a celebration of the diversity and talent of its writers. Its richly varied contributions include short stories, memoir, poetry, humor, and essays. Seven of them are presented both in their original Spanish and in English translation. For an insider's view of San Miguel, look no further.
While Volume I is currently out of print, we plan to offer it by mid-2018 as an online e-book. We will keep you posted!
Solamente En San Miguel, Volume II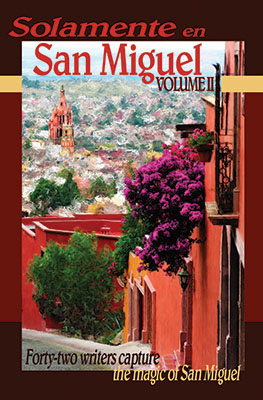 Midnight cemetery visits, building a house, barking street dogs, falling in love, Christmas shopping for the girls fromthe orphanage, ending up as a picador in a bullfight after along night in a bar, fallen women (we're talking cobblestoneshere), tequila sunrises — and sunsets. Fiestas, frustrations, or fireworks — in the end the magic wins, hands down.
"You come, you see, you're conquered," as contributor Kathleen Snodgrass says. Read this book and you'll understand why.
Look for your personal copy of Solamente En San Miguel, Volume II, in various locations in San Miguel!